1-800- 692-6224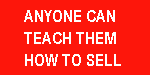 Date Last Updated
Sunday May 04, 2008
EXTREME ACHIEVERS
®
Consulting Services
Sales, Productivity & Performance Improvement
REMEMBER: REJECTIONPROOF® = RECESSIONPROOFSM
Are your salespeople ready for a recession? Over 50% of today's salespeople have never sold during a major recession. Many of them won't survive which means increased hiring and training costs in addition to lost sales profits- a threat to your company and career. Immunize your salespeople against rejection now so they are immune to the increased no's they'll experience. By making rejection increase determination instead of doubt, studies show people who are Rejectionproof ® sell more, stay on the job longer and tend to use fewer healthcare resources. When the recession hits, your company will have a competitive advantage and outperform the competition. REMEMBER: REJECTIONPROOF® = RECESSIONPROOFSM
These are statements of fact, not marketing hype. What do you want to achieve?
We dare you to measure the improved results we produce for you. We transform average employees into EXTREME ACHIEVERS®. That's why we love working with sales teams, it is so easy to measure results- increased sales, reduced turnover = more profits, a better bottom line to maximize your financial and professional future.
What isn't working as good as you want it to work? What do you need? Call us at 1-800-692-6224 and tell us about it. Consultation is free, we even pay for the call!
EXTREME ACHIEVERS® Consulting Services

Other Available Resources
• Professional keynotes, seminars, breakouts and workshops for businesses and associations.
• Individual and group coaching services.
• Training and certification of company Rejectionproof® Coaches.

Most Popular Pages:


Articles
Clients
Coaching
Consulting
Contact
EAQSurvey
Home
Karaoke
Media-PR
Privacy
Referrals
Speaking
Stuff



Have a relevant link useful for our clients? Click Here Now to see our links or to add yours.